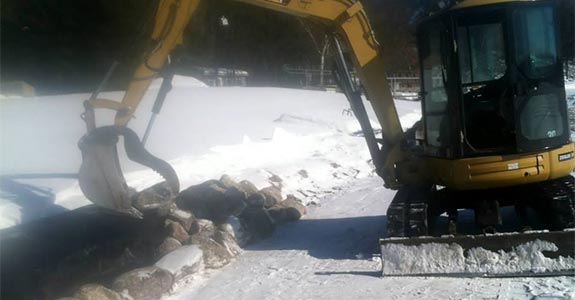 We know that when you're enduring several months of snow and freezing temperatures, hiring a landscaping business might be the last thing on your mind. But CJ's Landscaping Company, LLC isn't a typical landscaping business. We adapt our services to suit the Minnesota winters, which means we offer many valuable services specifically for dealing with snow removal and cold temperatures. Here are the services you can expect from CJ's Landscaping Company, LLC once the first snow of the year hits the ground:
Shoreline restoration:
Here at CJ's Landscaping Company, LLC, we know that shoreline erosion isn't only a problem during the summer. That's why we offer restoration in Pequot Lakes, MN all year round, during rain, shine or snow. Give us a call today for more information.
Excavation & snow removal:
We also perform light excavation and snow removal in Pequot Lakes, MN. Whatever you need excavation, our experienced team will perform the task thoroughly and expertly so that you can move ahead with your project.
Rip rap:
During the winter months, we know that snow and heavy storms can cause serious danger to your shoreline. That's why CJ's Landscaping Company, LLC provides installation and maintenance of rip rap in Pequot Lakes, Crow Wing County, Jenkins, Nisswa, and Breezy Point, MN. Keep your landscape and shoreline safe with this durable, affordable service. Contact us now!