Landscaping Company in Brainerd, MN
CJ's Landscaping Company, LLC is your local, family-owned and operated landscaping contractor. We proudly serve Brainerd, MN, MN and the surrounding areas with quality workmanship and prompt, personable and professional service. Call today to learn what we can do for your property!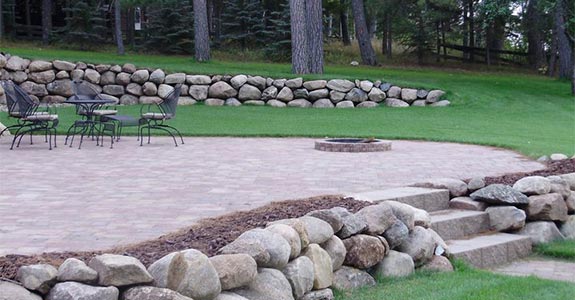 What does your landscaping say about you? Does your landscape compliment your home? Is there something missing? We can help!
CJ's Landscaping Company, LLC
Here at CJ's Landscaping Company, LLC, we know that nobody should ever be judged by their front or back yard. But we also know that it's usually the first thing visitors see when they come to your house, and that regardless of whether they should, people will judge you by the appearance of your yard. We know that if they could, everyone would put the time and energy into making their outdoor property reflect the warmth and care that visitors will find inside of their home. But many homeowners don't have the time, resources or physical ability to make that happen.
That's where we come in. Since 2000, CJ's Landscaping Company, LLC has provided high quality landscaping to the Brainerd Lakes Area MN residents. We love what we do. If you want your yard to communicate the best aspects of you, your family and your home, we hope you'll give us a call and find out what our valued customers already know:
We are a proud local, family-owned and operated business in Brainerd, MN.
We have been proudly serving the area for over 15 years.
Our landscapers are friendly and hardworking.
We offer a wide range of landscaping and lawn care services.
Our rates are always reasonable.
Coupons